Registration Process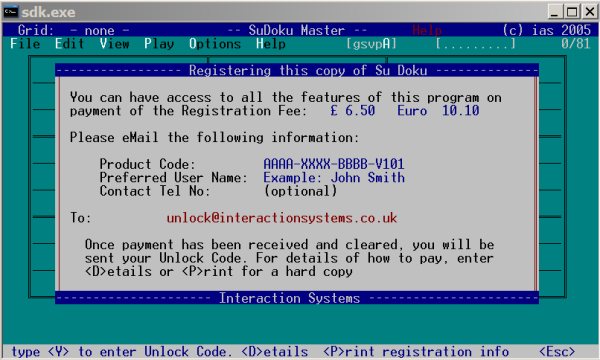 Having successfully downloaded the SuDoku Master Installer, you should then double-click the icon, and after reading some legal stuff and answering a couple of questions the program will self-install - it takes just a few seconds. A new icon will appear on your Desktop - which is your shortcut to SuDoku Master.
YOU WILL FIRST HAVE TO ENTER YOUR PRODUCT CODE. This is a unique 12-character string of numbers and letters which you would have been given at the time of downloading, and will also have been e-Mailed to you. You can do nothing with the program until this is entered.
Until you choose to Register, the program is capable of nearly everything, but you cannot compile your own grids, and you won't have access to the explanation of all the logical rules. You can load a few example grids, and perform every operation upon them, and you can watch as the Demonstration solves all the grids in the library.
The Registration Process
You will need to pay Interaction Systems the Registration Fee, which you find on the above Registration Page. Once you have paid, and your payment has been cleared, you will be mailed your unique Unlock Code - another 12-digit number. This you can enter from the Registration Page; all the program's features will become instantly available.
Methods of Payment
1. Bank Transfer
The quickest way of paying - if you have Internet access to you Bank Account - is by Bank Transfer. Most banks offer this facility at no cost, and if you bank with HSBC the transfer will happen the same day - sometimes instantly. Interaction Systems must be able to keep track of who has paid, so you will be required to enter some recognisable details which will link your payment with your download and Product Code. You should authorise payment as follows:
2. By Post
Please send a sterling crossed cheque made payable to Interaction Systems at:
(UK)
You must include your name, your unique Product Code, and some identification such as your email address or your full postal address so that we can mail you with your Unlock Code
Whichever method you choose, your Unlock Code will not be released until your payment has cleared - which may well be the same day if you choose Bank Transfer.